USC Dornsife/Los Angeles Times Poll
USC Dornsife/LA Times Poll: Democrats Lead in California's Top Two Senate Primary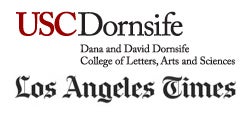 USC Dornsife/LA Times Poll shows Kamala Harris and Loretta Sanchez winning by California's Senate primary, with nearly one third of voters still undecided.
Contact: Emily Gersema at (213) 361-6730 or gersema@usc.edu; or Alexandra Bissonnette at (213) 740-3161 or bissonne@usc.edu
March 29, 2016 — Two Democrats are leading in the race for the first open Senate seat in California in 24 years, according to the most recent USC Dornsife/LA Times poll. Attorney General Kamala Harris is leading with 28 percent compared with U.S. Representative Loretta Sanchez, who has 16 percent.
Former Chairman of the California Republican Party Tom Del Beccaro garnered the highest percentage among Republicans, coming in third with 8 percent, followed by George 'Duf' Sundheim with 6 percent.
Among Latinos, Sanchez polls higher, earning 31 percent of their support compared with 16 percent for Harris.
"Harris has run successfully in two statewide elections and so it's not surprising that she is a strong front runner in the race," said Dan Schnur, Director of USC's Jesse M. Unruh Institute of Politics. "But Sanchez starts with a strong base of support among Latino and Latina voters: her challenge is to motivate those voters to turn out in much larger numbers than has historically been the case."
There's still room for the numbers to shift over the coming months, given that 32 percent of registered voters in California remain undecided, and among supporters of Harris and Sanchez, 16 and 13 percent respectively, reported being only a little or not at all certain about their position.
Brown Approval Ratings
The poll also measured Gov. Jerry Brown's approval ratings among Californians, and found that 60 percent of registered voters approve of the job he is doing, up from 53 percent found by the same poll in September of 2015, but still not as high as the 64 percent approval rating from February of last year.
While the majority of Californians approve of their governor, and 57 percent have a favorable impression of him, they are split on the direction they think California is headed. Forty-four percent believe that the state is on the right track, and 42 percent believe it is on the wrong track.
The latest USC/Dornsife Los Angeles Times Poll, the largest statewide survey of registered voters, was conducted March 16-23, and includes a significant oversample of Latino voters as well as one of the most robust cell phone samples in the state. The full sample of 1,500 voters has a margin of error of +/- 2.8 percentage points.
Additional poll results and methodology are available here.
WEBSITE: https://dornsife.usc.edu/unruh/poll
TWITTER: @usclatpoll, @unruhinstitute
About the USC Dornsife College of Letters, Arts and Sciences/Los Angeles Times Poll: The USC Dornsife/Los Angeles Times Poll is a series of statewide public opinion polls in California, designed to survey voter attitudes on a wide range of political, policy, social and cultural issues.
Conducted at regular intervals throughout the year, the USC Dornsife/Los Angeles Times Poll is the largest statewide poll of registered voters and has been widely cited, helping to inform the public and to encourage discourse on key political and policy issues.
About the Jesse M. Unruh Institute of Politics: The Jesse M. Unruh Institute of Politics is dedicated to bridging the academic study of politics with practical experience in the field. The Unruh Institute channels its efforts by offering courses in applied politics, a variety of speaker series, and an extensive political internship program. Its goals are to engage public officials with the USC community and to facilitate the discussion of relevant issues across campus.
About USC Dornsife College of Letters, Arts and Sciences: USC Dornsife College of Letters, Arts and Sciences is the heart of the university. The largest, oldest and most diverse of USC's 19 schools, USC Dornsife is composed of more than 30 academic departments and dozens of research centers and institutes. USC Dornsife is home to approximately 10,000 undergraduate and graduate students and more than 750 faculty members with expertise across the humanities, social sciences and sciences.
About the Los Angeles Times: The Los Angeles Times is the largest metropolitan daily newspaper in the country, with a daily readership of 2 million and 3 million on Sunday, and a combined print and interactive local weekly audience of 4.5 million. The fast-growing latimes.com draws over 10 million unique visitors monthly.